About the Fusion Studio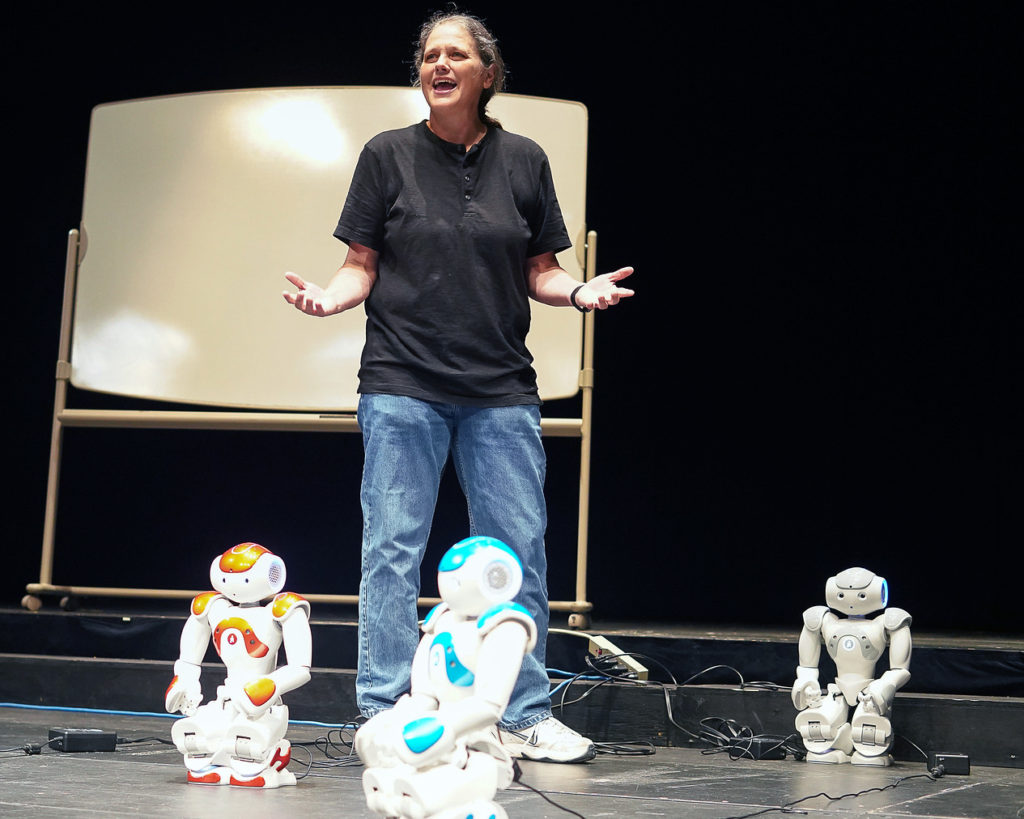 VISION
The Fusion Studio for Entertainment and Engineering will:
Raise the academic and professional profile of engineering in live entertainment.
Identify, document, develop, and disseminate signature pedagogical approaches that support engineering in live entertainment.
Position Purdue University as a national and international leader in innovative and interdisciplinary pedagogical approaches that connect engineering and the arts.
MISSION
The Fusion Studio for Entertainment and Engineering connects industry leaders with scholars and practitioners, provides space for development and exploration, and inspires pedagogical innovation at the nexus of engineering and live entertainment.
HISTORY
The Provost's office at Purdue University officially approved the proposal for the Fusion Studio for Entertainment and Engineering in the spring semester of 2020, creating a new, cross-unit, university center focused on education in entertainment and engineering. The goal was simple, but not easy: solidify Purdue University's presence as a leader in interdisciplinary education at the nexus of live entertainment and engineering. The design of the Fusion Studio's leadership structure emphasizes the values and cross-disciplinary nature of the center, with co-directors serving from the College of Engineering and from the College of Liberal Arts.
The Fusion Studio's origin story began years before, however, with earlier work between the colleges of Liberal Arts and Engineering at Purdue.
The Multidisciplinary Engineering program launched a first-of-its-kind theatre engineering concentration when faculty in engineering and theatre joined forces to make formal the interests of a growing number of students who were attracted to the entertainment industry. This concentration was proposed in 2017, with Dr. Mary Pilotte (then Director of Engineering Education's Undergraduate Degree Programs and Professor of Engineering Practice) and Rich Dionne (then Assistant Professor of Practice in Theatre, now Associate Professor of Practice and Chair of Theatre in the Rueff School of Design, Art, and Performance). This work built on the efforts of previous faculty in engineering and theatre (including Emeritus Chemical Engineering Professor Phil Wankat, Professor of Theatre Rick Thomas, Professor of Theatre Joel Ebarb, and others).
In response to the continued rapid growth of interest by students and industry in the theatre engineering concentration, Dionne and Pilotte hosted a "fly-in" event at O'Hare Airport in Chicago, in July 2018, discussing trends and opportunities at the nexus of live entertainment and engineering. A broad range of attendees representing academic institutions (University of Wisconsin-Madison, Michigan Technological University, University of North Carolina-School of the Arts, and University of Nevada Las Vegas) and important companies in the live entertainment industry (iWeiss, Texas Scenic Company, Adirondack Studios, McLaren Engineering, Creative Conners, Hudson Scenic, Shuler Shook, DLR Group, and Electronic Theatre Controls) brought great enthusiasm to the event. The energy and discussions that emerged from this meeting became the impetus for the 2019 Symposium on Education in Entertainment and Engineering and the 2019 Stage Machine Design Competition.
With growth in the theatre engineering concentration at Purdue and the emergence of other entertainment/engineering education efforts on the horizon — including those other academic institutions desiring to launch similar programs — Dionne and Pilotte recognized that Purdue University was positioned to connect faculty with practitioners from across the country and across disciplines to provide resources and guidance — including best practices and pedagogical approaches.
This new, exciting, and innovative community at the convergence of engineering and entertainment industries now lives as The Fusion Studio for Entertainment and Engineering.
FOUNDING CENTER AUTHORS AND CO-DIRECTORS