ABOUT THE SYMPOSIUM
July 15 and 16, 2022
Purdue University, West Lafayette, Indiana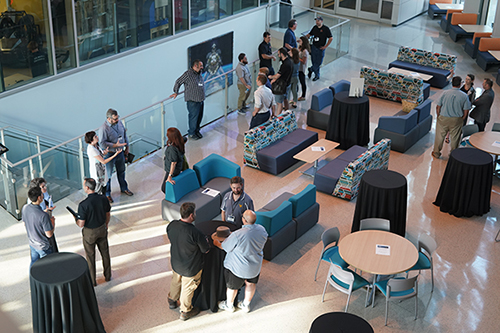 Registration for the 2022 Symposium is now open. Register now!
The live entertainment industry presents increasingly complex challenges for technicians—whether in small community theatres or in large theme parks. At the same time, the shape of post-secondary education is changing—with an increasing emphasis on hands-on learning and outcome-based instructional design becoming the norm. At the convergence of these threads is the need to effectively prepare and educate students to enter the rapidly changing world of live entertainment technology.
The annual Symposium on Education in Entertainment and Engineering highlights advances, challenges, and trends in curricular design, instructional design, academic research, and cross-disciplinary work related to the intersection of engineering and live entertainment. This symposium is specifically aimed at building bridges between two exceptionally different academic and professional cultures and practices; presentations come from many different backgrounds and academic experiences. Symposium topics explore the interstitial spaces amongst the disciplines of engineering, theatre technology, and education, including the following topic areas:
2022 Schedule of Events
Friday, July 15
Optional
Register for a guided tour of Purdue University's Special Collection of artifacts from Neil Armstrong's time as an engineering student at Purdue, including materials from the play he wrote and directed, La Fing Stock! (Space is limited, first come, first served.) Tours start at 3:30pm.
Packet Pickup/Registration 3:30 to 5:00 pm
Networking Reception 5:00 pm to 7:00 pm
Saturday, July 16
8:30 am Snacks and Coffee/Packet Pickup
9:00 am Welcome and Introductory Remarks
9:15 am Keynote Presentation
10:00 am Break
10:15 am Panel/Paper Presentations on Immersion/Interactivity/Gamification (see abstracts below)
11:45 am Lunch and Networking
1:00 pm Panel Discussion with Industry Representations on Essential Learning Outcomes
2:15 pm Break
2:30 pm Working Sessions: Breaking Down Barriers

What disciplines/plans of study should faculty look to explore?
What is the next big thing/the future of technology in entertainment?
Resources, Real Estate, and Relationships: Reimagining Industry/Academy Partnerships Beyond Gear and Internships

4:00 pm Wrap up and Closing Remarks
Optional
4:30 pm Gallery Walk and Dinner
---
REGISTRATION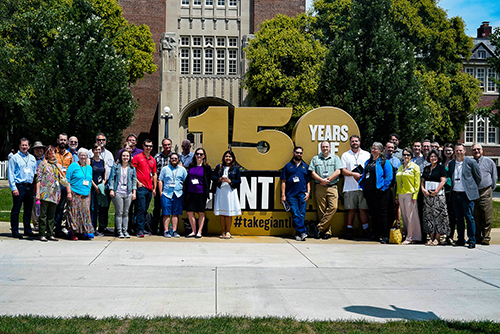 Registration for the 2022 Symposium is now open!
Registration for the event costs $125; the optional guided tour and reception on Friday are free of charge. The optional dinner and gallery walk will cost attendees an additional $50. Register now!
---
TRAVEL AND HOUSING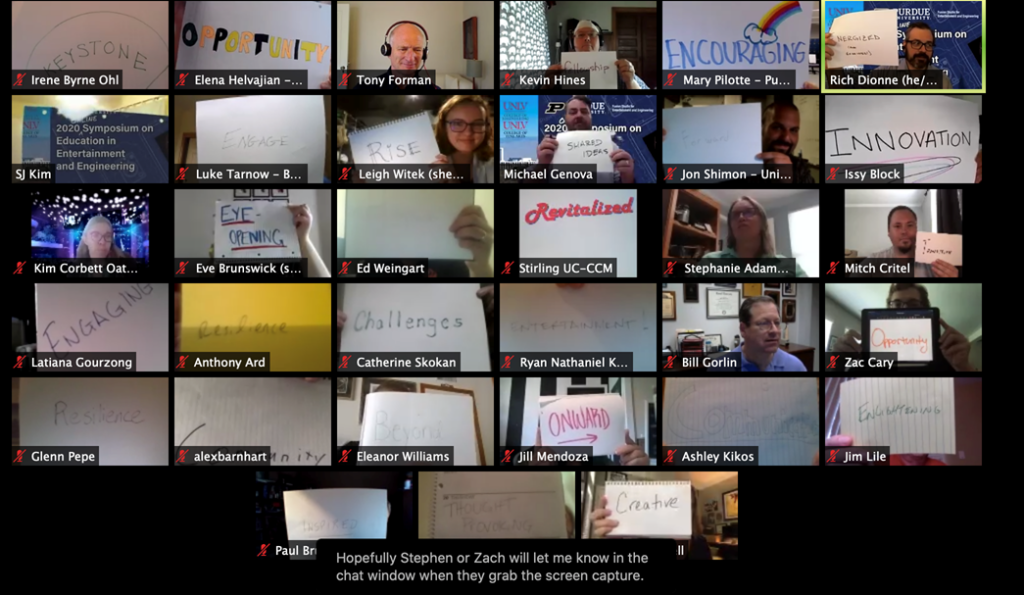 Staying in West Lafayette
The Symposium has arranged a limited number of affordable guest accommodations on campus for Symposium attendees. At approximately $63/night, these accommodations are significantly more affordable than local hotels and are conveniently located on campus. This option can be selected during registration.
For attendees who wish to stay in a hotel, the Symposium has arranged a block of discounted rate rooms at the Hilton Garden Inn in West Lafayette. (More information can be found on the registration website.) Additional local hotels:
The Union Club Hotel
Located conveniently on campus, the Union Club Hotel is an Autograph Collection Marriott Hotel.
Hampton Inn and Suites
Located in West Lafayette, the Hampton Inn and Suites is a 15 minute walk from the center of campus.
Getting to Purdue University
Indianapolis International Airport an easy airport to fly into, with multiple flights daily from major hubs across the country, and is convenient to Purdue University with two shuttle services offering routes to and from campus multiple times per day. Driving directions to campus can be found on Purdue University's web site.
---
ABSTRACTS
Welcome to Gamiotics Software: Powering The Gamification of Audience Engagement
David Carpenter, Caroline Prugh, Gamiotics
Gamiotics is a new software company that is delivering the next generation of dynamic storytelling and experiences by pioneering the gamification of audience engagement. Creating authenticity of experience through agency anywhere people are gathered. Born out of the need for a software solution to serve audience engagement, Gamiotics connects audience and content with zero hassle. Web-based, with nothing to download, it's accessible instantly from the phone in their pockets. Co-authored by Founder & CEO David Carpenter and Director of Theatrical Licensing Caroline Prugh, this paper will provide a brief overview of the genesis and first two-year development of this user-friendly, interactive software.
Drawing on lessons learned from 20 original test case digital productions, the on-going development of an in-person audience interactive D&D style RPG called The Twenty Sided Tavern and other use cases, we will speak specifically to the challenges presented by building bridges between new technology and traditional artmaking. Touching on this technology's impact on the fundamentals of storytelling, rehearsal process, and audience experience. We will outline the ways we're adapting, rather than fully breaking with, known "best practices" in these areas in order to serve the opportunities presented by this emerging form of entertainment.
The cell phone has been a troublesome piece of technology within the theatrical establishment since its availability to the general public 25 years ago and now it has become an essential tool for daily life. Rather than viewing it as a distraction or worse, Gamiotics is harnessing and manipulating it to deliver a new cost-efficient tool to artists exploring incorporating gameplay in the theatrical space and beyond. We will speak to diplomatic insights we've gained by our transformation of pesky phones to dynamic data devices.
Traditional theater unites a collaborative team around the collective idea of "knowing the story we're telling," but what happens when placing agency in an audience's hands disrupts Aristotelian unity? When you move away from the fixed frame of the proscenium and a singular dramatic arch? While Gamiotics is designed to facilitate interactive experiences grounded in gameplay, these questions concerning the shift from passive to active audience participation are shared with the immersive world as well.
We hope that by sharing our findings from this initial period of research and development we will leave you with strategies broadly applicable for building bridges between new technology and traditional art making.
Immersion: Have We Been Here Before?
Catherine Skokan (Colorado School of Mines), Robert Klimek (Colorado School of Mines), Michael McMillan (Disney Hollywood Studios; University of Denver), Joseph Bearrs (Disney's California Adventure Theme Park)
Technology has provided us with a different form of entertainment. Immersive entertainment has exploded. From Meow Wolf to Immersive Van Gogh, we are looking at art and entertainment in a new way. The Re-visioning of Notre Dame's interior provides a new look at this historic structure. A building is now entertainment. Static works of art are now entertainment. This leads to thoughts such as can a religious rite or inauguration be entertainment?
Should Immersion content cross generational boundaries? Does it set up the opportunity for self-guided experiences and varying paces? Can it also provide an experience which includes sight, sound, and smell? Can the content be easily transported from one location to another and be easily modified to include new relevant content? Disney's Soarin' is an example that began with just California content and now covers highlight around the world.
Can we use immersion technology to create "audience driven" entertainment with a "choose your own adventure" feel? How might an audience interact to changes during the performance in the lighting, costumes, set and sound? Every performance would then be unique.
Having considered these, and how they define entertainment in society, what new events, innovations, or technologies could help move the value behind the arts forward? How could these be used in instruction and future classes?
At Colorado School of Mines, we are using immersive technology to aid in our understanding of the earth's subsurface. Our traditional connection with the earth sciences has provided an ideal platform. Our Mining Engineering Department has a WorldViz VR to study Mining Risk Management and Hazard Assessment. Are there more applications in Engineering Education, entertainment, and immersive technologies? We believe there are.
Using Theatre to Communicate Quantum Physics to a Non-scientific Audience
Sanskriti Chitransh, University of Chicago
Almost all undergraduate courses on quantum physics begin with some study of linear algebra. This mathematical requirement creates a barrier around these concepts which excludes a majority of the non-scientific community from the mystery and beauty of quantum particles. While popular science books and media play an important role in communicating quantum science to the general public, science fiction often creates incomplete and inaccurate ideas about the science in public perception. This calls for a more inclusive and interactive method of disseminating quantum physics which minimizes the use of overt mathematical tools without compromising the accuracy of the science. STAGE (Scientists, Technologists and Artists Generating Exploration) Lab at the University of Chicago is producing a play focusing on Quantum Entanglement with the objective of communicating the nuances of quantum physics to an average theatre audience. We combine text from physics books, ideas from game theory, and popular gambling games with theatrical storytelling methods to create a play. These ideas have distilled into possible storylines including a murder mystery, and a family drama which capture the essence of quantum mechanics through allegories and metaphors arising from everyday human interactions. The stories and games are free from lecture-like mathematics discussions and will communicate quantum science accurately to an audience with very little formal physics training.